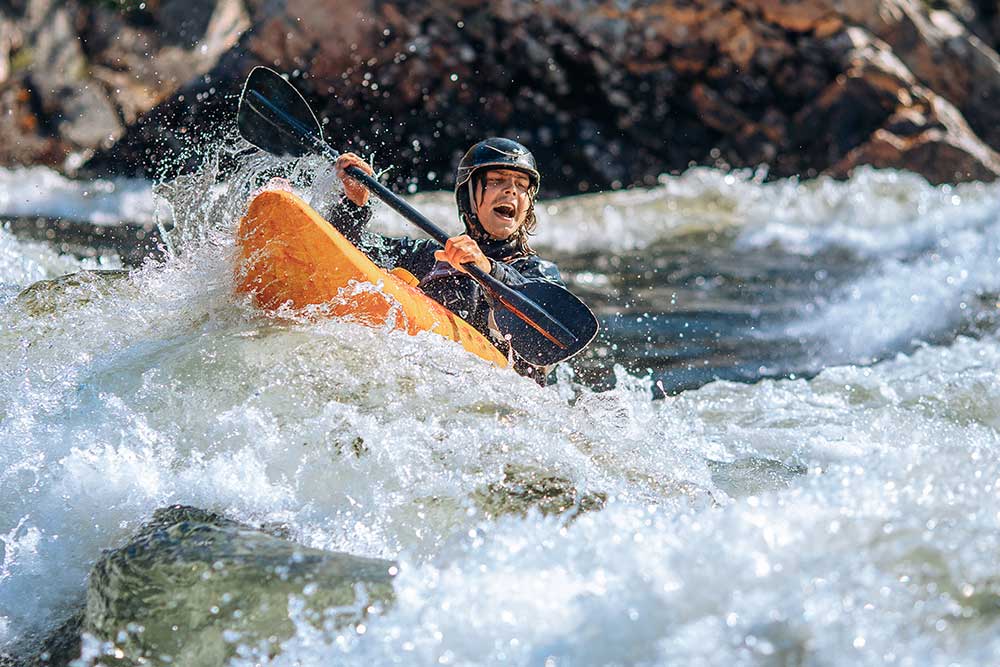 With the snow melting, and the water levels rising it's time to start thinking about river sports. As with every sport, from casual to competitive, there is a risk of injury. Richard Cunninghan, MD, a sports medicine orthopedic doctor, offers information to prevent common shoulder, wrist, elbow and knee injuries in kayakers and other river sports.
Common Shoulder Injuries Seen in Kayakers
Kayaking and other river sports like canoeing and paddle boarding rely on an efficient paddle motion to maneuver through the water. Paddling puts significant stress onto the shoulder joint. Most of the forward momentum of paddling sports is derived from the muscles, tendons, and ligaments of the shoulder complex and its surrounding musculoskeletal supports.
With the demands primarily placed upon the kayaker's shoulder, injury can occur. The shoulder represents nearly half of all kayak injury complaints. Common shoulder injuries seen in kayakers range from:
Mild to severe strains or sprains of shoulder muscles, ligaments and tendons
Shoulder tendonitis from repetitive motion
Shoulder muscle, ligament and tendon tears
Dislocation of the shoulder joint
Fracture to one or more of the shoulder complex bones
These shoulder injuries often occur when the shoulder is forced out of its normal range of motion.
Kayaker awareness, training, and proper stroke technique is necessary to avoid injury to the shoulder. In some cases, a shoulder injury in kayaking occurs acutely due to an unanticipated obstacles such as rocks, branches, root structure, or even other river sports enthusiasts.
Common Elbow & Wrist Injuries Seen in Kayakers
The elbow and wrist of kayakers are subject to great degrees of force during the paddling movement. As such, kayakers, along with paddle boarders and canoers, can experience injury to the elbow and wrist. These joint injuries are often caused from repetitive movement, but acute injuries due to a traumatic event while paddling also occur.
Most commonly, elbow and wrist pain is due to tendonitis. There are several tendons in both the wrist and elbow that are commonly affected. Any single tendon, or group of tendons can become inflamed due to repetitive motion. This injury is often sustained near the end of river sports season, as the cumulative effect results in increasing inflammation in the tendon(s) over time. Pain is often reproduced when repeating the motion, or when applying pressure to the area. Stiffness and swelling is commonly associated with tendonitis. The pain can radiate, causing a weakness in the arm and hand, affecting the ability to grip. A shooting or burning sensation can occur. It can even awaken patients at night.
Common Knee Injuries Seen in Kayakers
Fortunately for kayakers and other river sports enthusiasts, knee joint injuries are infrequent compared to shoulder, elbow and wrist joint injury. The most common causes are:
Improper form
Acute trauma event
To avoid improper form affecting the knee joint, it is important to begin with the correct gear and equipment. Next, recognizing, practicing and mastering the correct posture, form and use of the equipment. An example of this is the kayaker's positioning within the shell of the kayak such that the knee is not alone in transferring load through the boat structure on the footboard. The force should not be primarily driven through the knee joint. The proper fit of the kayak along with the correct technique and posture, work together to ease up the hips and feet so they can easily perform their portion of the paddle rotation. This serves to protect the knee joint. By sharing the load evenly, the knee is less likely to experience pain or injury.
Acute injuries to the knee when kayaking most often occur from an unexpected trauma. When a kayaker is forced to exit their boat in sizable rapids, the knee can sustain a direct impact against a boulder resulting in a patellar fracture or bone bruise. If a kayaker slips and twists the knee on wet, slippery rocks getting in and out of the water while carrying one's kayak, one can tear their medial collateral ligament (MCL) of the knee. If you experience a knee injury from kayaking or river sports, Richard Cunningham, MD, knee doctor can help get you back on the water.
How to Prevent Common Injuries Seen in Kayakers
With proper preparation, kayakers can prevent common injuries. Canoers and paddlers also benefit from this level of preparation. Broadly, preventing common injuries in kayakers involves:
Physical preparation
Equipment checklist
Day-of decisions
Double check conditions
Physical Preparation
Regular exercise coupled with warm-up and proper stretching practices can help minimize injury on the water. Good hydration and nutrition is important. Planning proper clothing critical given the cold water temperatures during the spring run-off. One should be dressed in waterproof layers with a dry top or a wet suit. To protect against the sun, use clothing and a hat and glasses that offer UV protection.
Equipment checklist includes:
Is the craft secured for transportation to and from the waterway?
Is the life jacket the correct size, fitted with a whistle, and able to be worn at all times on the water?
Is the kayak helmet fitted and protective?
Do the paddles and grips fit the kayaker's size and skill level?
Is the kayak load limit being observed?
Is any equipment in need of repair?
Day-of Decisions
Before embarking on your trip, be sure that the kayaker's swimming and kayaking skills are appropriate for the waterway, water temperatures and air temperatures. Choose locations and sections of the river that match one's skill set. Is the entry and exit to and from the water easily managed? Refresher paddling and safety courses are recommended each season, including basic first aid training. Is there a plan in place if one were to capsize and have to exit their kayak?
If you are a kayaker who has sustained a shoulder or knee injury, contact orthopedic sports medicine doctor Richard Cunninham, MD, today. He can get you back to the sport you love.